Effective Living > Music > Heart Songs
Summary. This month's Heart Songs selection is Before There Was Time by Caedmon's Call from the album In the Company of Angels – A Call to Worship. The album has an emphasis on acoustic instrumentals and uplifting, rich, harmonious, clean, crisp vocals. The music is a fusion of folk, country, and rock. The quality and clarity ofthe digital recording is superb. Lyrically, some of their songs emphasize Jesus and the salvation message of modern evangelical Christianity. However, some of their music is simply about life, relationships, and God's love.
Discography. From 1994 to 2007, Caedmon's Call have produced 15 albums. A sampling of their work is on the album Chronicles 1992-2004 which is available on iTunes. However, their top 100 songs can be purchased individually on iTunes.
Events. Caedmon's Call maintains a fairly busy tour schedule, details are available on their website.
Charity. The band primarily supports three charitable organizations: Compassion International, Dalit Freedom Network, Peace Gospel Ministries.
Photos. Photographs from the band's performances and their mission tours are available on Flickr, including photos from their recent trip to India.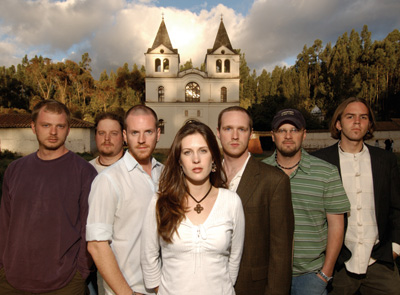 About Caedmon's Call. From the about page on their website: "Caedmon's Call has sold over a million units of its 14 records to date but has always been more of a community itself than a band. This group is known for it's multi-talented members; Cliff and Danielle Young (two of Christian music's best-loved voices), Derek Webb and Andy Osenga (both respected singer-songwriters), Todd Bragg, Garett Buell, Jeff Miller and Josh Moore (all top-notch musicians). The ever-evolving collective helped bring a renaissance of acoustic music in the Christian pop scene and earned the band a large and loyal fan following, known as The Guild. Caedmon's also helped launch or boosted the careers of artists like Bebo Norman, Jill Phillips, Waterdeep, and Andrew Peterson. The band is also a longtime promoter of missional living, through their longtime partnership with Compassion International, and more recently with the Dalit Freedom Network, an organization fighting caste discrimination in India, and the band's own Share The Well Foundation. The idea of the foundation is central to the band's message, "to change the perspective, change the church culture, and what it means to be a believer," says Young, from sitting in the safety of a pew to impacting a hurting world."
Lyrics. The lyrics to the song Before There Was Time are sprinkled with scriptural references, so links to relevant scriptures are provided. The lyrics are as follows:
Before there was time
There were visions in Your mind
There was death in the fall of mankind
But there was life in salvation's design
Before there were days
There were nights I could not see Your face
But the night could not keep me from grace
When You came and took my place
Chorus
So I cry holy only begotten Son of God
Ancient of days
I cry holy only begotten Son of God
And sing the praises
Of the One who saved me
And the promises He made
Before there was time
You counted the hairs on my head
You knew all the words I've said
And You purchased me back from the dead
Before I was made
You searched me and knew my ways
You numbered all my days
And You set forth the steps I would take
You saved me; You raised me
You saved me; You pulled me from the grave
Chorus 2x
So I cry holy only begotten Son of God
Ancient of days
I cry Holy only begotten Son of God
And sing the praises
Of the one who saved me
And the promises He made
Before there was time